The Crew of the
USS Waller, DD/DDE 466






Current Bio's On File

Adler, Alan
Allen, Ted
Allison, Tex
Alm, John
Benoist, Fred
Carroll, Robert
Couron, Ellis "Bud"
Davenport, Pete
Elmore, Tommy
Elster, Rick
Grande, Nick
Hanson, Gene
Henderson, Ron
Huffman, Dean
Kimm, Francis
Krick, Allan
Mallison, Pete
Neste, Carl
Riordan, Denny
Ross, John T.
Rowley, John
Saunders, Tom
Seifert, Bob
Shrivers, Bob
Smith, D.W.
Toscano, Joe
Warren, Bob
Whigham, Gene
Wolf, Joe
USS Waller 1999 Ships Reunion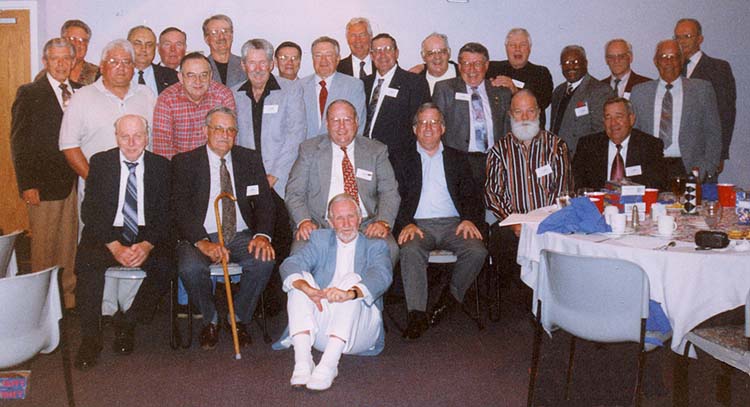 Front Row: Denny Riordan
Second: Joseph Merkel, Charles Coffman, Frank Prevo, Bob Fiske, Dolan Wolford, Dean Huffman
Third: M Naccarato, J Toscano, C Blybon, Tex Allison, D Resavage, D Pingeon, G Hanson, S Shuemake, O Rougeau
Fourth: B Johnson, M Lucas, J Dickson, D Daily, B Seifert, A Krick, T Allen, B Ebel, P Davenport, C Chester


I reported aboard the Waller in Jan. 1957 from NAS Anacostia, Washington, D.C. I was a CSSN and was greeted by Mr. Kent who informed me that there were already to many cooks on board and gave me the option of assisting Dale D. Davis as a disbursing clerk or going on the deck force. I asked for a description of each job and immediately choose the adding machine. About 14 years ago I found out that Dale D. Davis died in an automobile accident in the mid 80's in his home state of Nebraska. GOD REST HIS SOUL. I made CS3 in Gitmo and went to the galley. I was released from active duty when we got back from the Med in August of 1957. I spent the next 25 or so years trying to become a "STAR." Appeared in some good movies, North By Northwest, Love With The Proper Stranger, Career, Penelope, The Night They Raided Minskis, and a few more. Signed to a contract with Paramount in Feb. 1959. Did'nt have a decent part in any of the movies and went back to N.Y. where I did quite a few T.V. shows.

Finally moved to Las Vegas in 1963 and worked as a comedy writer for a few comedians. I tried doing standup in and worked the lounge at the Mint and a few local spots. Was discovered driving a cab by Steve Lawrence in 66 and brought back to New York. I was in the first group of comics at the original "Improv" on West 44th Street. The group was Ron Carey, Steve Landesberg, Rodney Dangerfield, Richard Pryor, and a few other very funny people. I worked Coffee Houses around the east, and summer resorts in the Catskill Mountains. I returned to Las Vegas in 1974 and back to writing for and traveling with Pat Henry untill he passed away Feb. 1981. It was a great job. The money was good, but the crap tables, blackjack tables, ect. were'nt. During those years Pat opened for Tom Jones, Sammy Davis Jr. and Frank Sinatra; so I did get to travel and have a lot of fun. Unfortunately I was having so much fun I forgot to save for my old age. I was having a great time with super stars, s! howgirls, dancers, and some other young long legged damsels. Who thought I would make it to 65. Actually I won't be 65 untill March 2, 2002. Thus I am still single, selling real estate, and fighting with the VA over lung problems that I developed while on active duty. All my active duty medical records were destroyed in one or more fires in St. Louis. My claim was remanded back to St. Petersberg, Fl. from Washington and On Nov. 29, 2001 I was told that Its before the ratings board and I should get a ruling in 4-6 months. That leaves somewhere between now and and May 30th to go. My pulmonary condition makes it almost impossible to show properties; or even walk much so hopefully they'll rule in my favor. The medical evidence and other facts are in my favor. Some of you may remember me for the flavored ice cream I made. To my knowledge The Waller was the only ship in the 6th Fleet that served strawberry, peach, and other flavored ice cream instead of the grainey vanilla and cho! colate. After about 22 years in Las Vegas as my home port I've been operating out of Ft. Lauderdale, Fl. the last 12 years. GOD BLESS ALL OF YOU

Allen, Ted

I reported aboard the Waller in Feb. 1958 and served until Oct. 1960. I was in the First Div. I started out as a seaman and ended up as a B.M.3. I started work at the University of Maryland in Nov. 1960 and retired April 1992. I started out as a plumbers helper. I retired as th Assistant Director of the Physical Plant Department. I was in charge of the Maintenance and Engineering Div. I still work part time for the University as a consultant for engineering projects. I also work part time as a male stripper. My hobbies are hunting, fishing, woodworking, and writing poetry. OK, OK, I am lying about the male stripper and the poetry! Now back to my real life. My wife Carol and I have 4 children and 9 grandchildren. Theodore Jr. (Chip) 39 is a Deputy Sheriff here in Calvert Co. He has 3 children. Terri is 36, she is a home maker and has her own computer graphic business. She taught me everything I know about computers. She has 3 children and lives in PA. Tammy is 33 and is a pre school teacher here in Calvert Co and has 2 children. Tim is 32 , he is a plumber at the University of Md. and has 1 son. He lives at home with us. We also have a cabin in W.VA. where we spend most of our summers.

Back to top of page.

.

Allison, Tex


I was born in the GREAT! state of Texas, in a small cow town called Port Neches. I reported aboard the Waller in April 1958 and was discharged in Jan.1960. I was in the 1st Div.. and slept up forward close to the Boatswain Locker. I started out as a S.A. and ended up a S.N. I wish we could go back in time. There were really a lot of great guys on the Waller. The Waller was one of the best Destroyers in the 7th Fleet. I really enjoyed being called "Tex" on the Waller. That was the nickname Ted Allen gave me. In Mar.1960 I went to work as a Union Carpenter. In 1965, I worked for the Post Office as a mail carrier for the city of Port Neches. In April 1967 I went to work for B.F.Goodrich, now Bayer, as a A-Operator. I retired from Bayer in 1994. Now I do a lot of honey do jobs. My hobbies are hunting, fishing, and working in my garden. My wife Patsy and I have 3 children and 8 grandchildren. Laura, 39 works for Goodyear as a C.P.A. She has 2 boys. Mike is 28,he works as a Computer Draftsman. He has 3 boys and 1 girl. Tom is 26, he is a Union Welder and has 1 daughter. God Bless all the sailors that were on the U.S.S.Waller DDE 466 wherever they may be.


Click here for more information on one of America's most wanted, AKA Patsy Allison.





Alm, John S.

I came onboard the U.S.S Waller in Sept. of 58 and was assigned to the after engine room. In Feb. of 61 I got a swap on the U.S.S. Strong DD 758, so I could make a Med cruise. I was discharged in Apr of 62 and MM2/C and returned to my home town where I got a job with Mead Corp. (a paper co.) I worked on the paper machines for 35 years, working my way up to supervisor. I retired in Oct. of 97. I have been married twice and have two daughters from my first marriage and two stepdaughters and one stepson from my second marriage. I enjoy downhill skiing, traveling and workworking. I really enjoyed my time I spent aboard both ships. It was a great experience. John S. Alm

Benoist, Fred


I joined the Navy in 1958 and was aboard the Waller in 1960. I was discharged from the service in Sept. 1961. While on the Waller, I was struck by a huge wave and fell overboard but managed to hold on to the life-line and two buddies saved me, can anyone remember this almost tragic incident? After discharge I was employed for two years at Capital Products, an aluminum storm door and window co. Then for the next 15 years I was a Bread Salesman both retail (like the milkman that delivered door to door)and wholesale to stores. Then I was employed by Kessler Meats as a shipping clerk for the last 15 years I was able to work. Because of having Diabetes since I was 23 years old, I developed numerous medical problems and became disable on Jan.14,1993. My wife Eunice and I will celebrate our 37th wedding anniversary on April 29th. Our daughter Lori, is 35, married and has 2 sons. Andrew 8 and Justin 5. She is a hair stylist but became a full-time homemaker in 1993. She and her family live in Mars, Pa. Our son, Michael is 33, married and has a son David 3 and a daughter Sarah 3 . He is a Telecommunications Engineer with a firm in Harrisburg, Pa. He lives in Camp Hill, Pa. I enjoy playing Pinochle with friends on Friday evenings, bird watching on my deck, watching videos, sports and fishing on TV. The Phillies and Chargers have always been my favorite teams. Although , I am sorry to say we will not be traveling to the Waller reunion, my wife and I invite all my former buddies to visit us in Camp Hill, Pa.



Back to top of page.

.



Davenport, Pete


I reported aboard the USS Waller on Oct. 14,1955. I departed the ship on July 1, 1959. When I went aboard the ship I was in the deck force but it didn't take me long to transfer to O.C. Division. When I left the Navy, I drove truck for 14 years. I recently retired from General Electric. My wife Nancy and I have been married for 41 years. We have 2 children, a daughter who is 38 years old and she is a buyer for a local company. Our son is 37 years old, he has a daughter. Our son works at Freightliner truck company. We all live in Rockwell, N.C.. My hobbies are camping, fishing and traveling.



Back to top of page.




Carroll, Robert

I reported aboard Waller as a Fireman 2nd on 6 October 1942 in a draft of 6, direct from Pier 92 Brooklyn. She had been in commission for 6 days and was still a mess and not ready to get underway. Of course, none of us knew anything about a Fletcher class DD, so we were all pretty green. Assigned first to the after fireroom with Chief Birdsinger, then to fwd fireroom with WT1C Sloan, and then to fwd engine room with Chief MM Roswell Linam, a really top drawer sailor called up for WWII from the Fleet Reserve after already doing more than 20. I learned everything I needed to know from him and was standing top watches there soon. LT Arrington was Chief Engineer. As was true of much of the black gang, I witnessed very little topside action during the earning of Waller's first 7 battle stars, and when we steamed to Alameda for refit in late August '44, I gladly departed on 20 days leave.

On return, another MM (Tom Williams) and I went to ONOP, San Francisco to check on our request for flight school. A YN1C found our names buried in a cardex and said we could go if we could pass an aptitude test. (I've never forgotten the power wielded by Yeomen) We got orders shortly before Waller sailed, for a class convening 28 DECEMBER '44!! No quarters available so we drew per diem and bunked together in a hotel. Tom gave it up when the war ended but I stayed and after mucho ground school, started flying at NAS Glenview in late '45. Soloed in January '46, got my wings in Pensacola in April '47. Frozen in rate all through flight school, I was now a AP1C (Aviation Pilot) instead of a Machinist Mate. Flew various places except ships in 20 or so type aircraft as an enlisted pilot. Rated AP1C until the Navy abolished the rating, then became AMM1C(AP), then AC1C(AP), then ACC(AP), [Air Controlman], but with all the rating changes, our primary duty was still flying airplanes, and that's the way our orders always read, with Priority 2 Air for travel.

The last enlisted pilot to get wings was in December '47, and by 1955, there were only about 600 of us left in the Navy. They gave temporary commissions to half of us in July '55 so if you spotted an Ensign with graying hair around that time, he was an ex-enlisted pilot. We just kept on doing the same thing, mostly flying transport type aircraft. After about 7200 hours of pilot time, my last flight in the Navy was from Sangley Point, Philippines to Tan Son Nhut, Vietnam (Saigon) and return, as Aircraft Commander of a C-54(DC-4). Flew back to San Francisco on PanAM and retired as Lieutenant Commander on 1 March 1967.

I should add that I had the same wife the whole time and we managed to produce 3 offspring, 2 boys and a girl at 7 year intervals. We were together as often as we could be during my Naval career and we're still a pair after 61 years. We have three grandsons and two great grandsons.
Back to top of page.




Couron, Ellis "Bud"

My name is Ellis P. Couron 582-62-77
I enlisted in the regular US Navy on 13 December 1941 for a six year enlistment and sent to Recruit training in San Diego California. After training I was sent to Bremerton, Washington for duty on the USS Tennessee.
Early in 1942 I was transferred to the Brooklyn Navy Yard for duty on the USS Waller DD 466. I soon discovered that I was only one of five regular Navy sailors on board, one of whom was the Captain. I was also only one of three sailors from the west coast.
We put the ship in commission and spent the entire period of WW 11 in the south pacific. During this period I went from a messcook to MM! In charge of the forward engine room. After the war was over we brought the ship back to Brooklyn and then down to Charleston, South Carolina where it was decommissioned and I was transferred to the Naval base. When my enlistment was over I was discharged and went back to the west coast for reenlistment not wanting to go to sea from the east coast. I soon found myself aboard the USS Jason ARH 1 where I spent six and half years going back and forth to the Korean War and Japan. I made Chief on this ship and tried time after time to get transferred to no avail. After fourteen years of service and facing nothing more than the ten months in Japan to the six months in the states [ something that didn't always happen] and being told that if I went to Portland Maine to reenlist I would be sent immediately back to the Jason I took a discharge and enlisted in the US Air Force where I was stationed for my last six years in my home town.
I spent the next fifteen years working for the Lawrence Livermore Laboratory in Livermore California as a Maintenance Mechanic and retired. The wife and I have lived the good life since in Cave Junction Oregon on property we bought when we were younger, growing old and doing the things we like to do best.
I had heard that the Waller had been sunk by the Navy and started looking the other day on my computer for information and was amazed when I came across Ted Allen's web page after all these years.
I saw the Waller once in Japan when it came alongside the Jason and I went over there to look around where I had spent so many years and talk to some of the engineers. Pretty quick the Chief Engineer found me and wanted to know if I would be interested in being aboard again as they were going on an around the world cruise. Making my apologies I beat a hasty retreat. Being in Japan away from home was bad enough, I didn't need to go around the world.

Back to top of page. .



Elmore, Tommy


I was born June 21, 1940 in Carlisle, West Virginia and raised in the Fort Pierce, Florida area. I entered the Navy in July 1958. After 3 months at Great Lakes, Ill. I reported for duty aboard the U.S.S.Waller Oct. 1958 to await an opening for Quarter Master School (never opened up.) I was assigned to Deck Force for General duties(paint & clean). Later I was assigned to ship service in the laundry and later to the barber shop (SHSN) I finished as SH3. In 1960 I was transferred to USS Massey DD778 in Mayport FL. (closer to home). Six months later the ship was transferred to Newport, RI. (long way from home). I was discharged July 5, 1960. I returned home to Fort Pierce and worked in a Food Fair Grocery Chain in the meat dept. In 1964 I became a Deputy Sheriff with the St. Lucie Co. Sheriffıs Dept. In 1969 I became involved in automobile sales and in 1970 became the owner of the Dodge-Chrysler Plymouth Automobile Dealership in Okeechobee, FL. In 1974 I purchased Wise TV. Inc. and in 1975 was awarded a Radio Shack franchise. I sold the automobile dealership in 1976, but continue to operate Wise TV. Inc. - Radio Shack and other Real Estate investments.
I was married in 1963-divorced in 1970, married in 1973-divorced in 1977, I married Betty in 1978, we have 3 children (mine from previous marriage) Jim lives in W. Va, Mike lives in Fort Pierce and Joy Welch lives in S.C.. and 4 grandchildren Shana 11, Jennifer 12, Victoria 6 and Connor 6 months and live happily in Okeechobee, Fl. We love to travel and visit our many friends. Golf is my hobby and sewing is Betty's. Having been involved in several organizations and having some degree of success in business., I personally spend a lot of time helping others, especially children. As an Elk for 36 years, my involvement has become a second job on a volunteer basis. Having served as state president of Fl. in 1992-93, I now serve on a Grand Lodge National Committee and have various assignments in 10 states, as well as many in Fl. I feel it is very important to return something to the community that will benefit the leaders of our country in the future. My many travels and interest have allowed me to make many friends throughout this wonderful country in which we live. I would trade none of it or want to start over. I am delighted to be reunited with those with whom I served in the U.S.Navy and our continued friendship in the future. While it is my intention to slow down at some point, I do not feel I will ever retire and do nothing. I plan to be active as long as the Good Lord will give me the good health that will provide happiness to my family and friends while allowing me the opportunity to help others in need. As long as I am busy doing something positive, I feel I will live a good clean, active life for many years to come.

Back to top of page. .

Elster, Rick

I reported to the USS Waller DDE 466 as an SKSN reporting to the supply Division. I served on her from August 1960 to November 1962. I had been at boot camp Great Lakes from June 1959 to September 1959 then on to Orange, Texas to TEXGRULANTRESFLT, as a SA attached to the deck force. After a couple of months I was transferred to the Supply Div. Then in August 1960 transferred to Waller, I was advanced to SK2 in Sept. 1962. While on Waller we did our standard ASW stuff but we took one trip to Quebec, another to Savannah and also the we took part in the Bay of Pigs and the Cuba blockade. In Nov 1962 I transferred to submarine school. After school I was sent to the USS Redfish AGSS 395, and did a WesPac cruise and in July 1964 I was off to New Construction at Mare Island and the USS Kamehameha SSBN 642 (Blue Crew). I took the boat on her first patrol and then was discharged in Nov 1966. I meet my wife Judy in 1964 in DC while I was on my way to some Navy schools on Dam Neck, Va. Judy and I was married in Oct 1964 and have had two daughters and now have 3 grandchildren. In 1984, I joined the Naval Reserve as an SK1(SS), made SKC(SS), then was advanced to Ensign, Supply Corp in 1989, through the LDO program. I retired from the Navy as a LCDR(SC), March 5, 2001 on my 60 birthday. My civilian job I am a Regional Manager for the Juice company Veryfine Products inc. I have been with them the pass 15 years.

Back to top of page. .



Grande, Nick


I reported aboard the USS Waller in January 1961. I was assigned to the Supply Division. I I reported aboard SKSN and I made Third Class Storekeeper in March of 1961. I was later transferred to the USS Barton DD-722 in September 1961. The Barton sailed for the Med 3 days after I reported aboard. After we returned from the Mediterranean, I was discharged June 3, 1962. Previously stationed in Washington, D.C., I longed to be a part of the real Navy. With two years left on my enlistment, I wanted to experience world travel, and feel the trill of the ocean. I soon found out after bobbing around Cape Hatteras with Task Group Alpha every two weeks wasnıt what it was cracked up to be. My shipmates on the Waller were some of the greatest guys Iıve met in the Navy. I will always remember the experience. After discharge from the Navy, I married Davee Lou Beadle Grande and moved to Cleveland, Ohio. I bounced around a while until Air products and Chemicals in Cleveland Ohio hired me. I worked my way up from plant operator to Assistant Plant Manager of a Hydrogen plant in Butler Pennsylvania in 1986. I worked on Hydrogen plants in Mexico and a Carbon Monoxide plant in Brazil. I retired after 35 years with Air Products and plan to travel and play golf. We have six children, Two boys, four girls. One of the boys joined the Navy and his rate was AE2 with eight years of service. We have no grandchildren. I enjoy working and teaching basic computer skills and internet uses. My email address is Wallerboat@AOL.com. What else?




Back to top of page. .



Hanson, Gene


I came aboard the Waller in March of 1959. I was a QMSA right out of Quartermaster school. I was immediately assigned to OC Div. and started my on job training as Quartermaster. During my tour on the Waller, I participated in the "Bay of Pigs" invasion of Cuba. I was able to attain the rating of QM2 before my departure from the Waller in May of 1961. I was transferred to the USS Roberts (DE 749) and served there for 1 1/2 years, subsequently being discharged from the Navy. Upon my discharge, I worked various jobs before joining the US postal service in 1964. I worked as a clerk, city letter carrier and acting supervisor before being promoted to Postmaster at Roberts, WI. the position that I currently hold. I also serve on the Board of Trustees for the Village of Roberts and I am serving my 4th term as Village President. I am a County Board supervisor for the County of St.Croix, WI. I have been married to my wife Shirley for 34 years and we have 2 children. Our daughter Carla is married and has 1 daughter Brittany. Our son Gene Jr. (Geno) is married and has 2 sons,Alex and Michael. My hobbies are golf, fishing and local politics, not necessarily in that order.




Back to top of page. .



Henderson, Ron


I reported aboard the USS Waller, from the USS Stribbling DD867 in Sept 1956 and remained aboard until May 1959. I reported on board as a deck SN and departed as a RM3. Following service with the Waller, I served, in order, on USS Parsons (DD946 commissioned it), Naval Communications Station (R) Imperial Beach, CA., Operation Deep Freeze 63 McMurdo Sound, Antarctica, Naval Communications Station (T) Dixon CA., USS Tripoli (LPH 10, commissioned it), Radioman ³B² school, San Diego, CA. Crypto Repair School, Vallejo, CA., USS Ponchatoula AO 148, Naval Communications Station Commander in Chief Pacific Headquarters, Makalapa,HI., Naval Communications Station Harold E. Holt, Exmouth, Western Australia, and finally as Staff Commander Carrier Group 11 Assistant Communication Officer,6th Fleet Naples, Italy and Athens Greece. I retired in June 1975 as a CWO but reverted to Master Chief Radioman for retirement purposes. After retiring I ran my own bookkeeping and income tax business while finishing my degree in business, then went into the restaurant business for 16 years. I retired again following the restaurant business and began as a volunteer worker at my local church. For the past 5 years I have served as Administrator for that same church in Baton Rouge, LA. I am married to the former Betty J.Fortner. We have 3 grown children, girls 33 and 23 and a son 25. We also have 8 grandchildren, 2 girls (very spoiled) and 6 boys (also very spoiled). I enjoy spending time with my family, reading and doing work in our church and community.




Back to top of page. .



Huffman, Dean


I reported on board the Waller in Jan.1957 as an RMSN in 0I division departing as a RM3 in May 1959. I married a Navy brat, Janice McTaggart in Sept. 1958. After my Navy discharge I went to work for the Federal Government in civil service as an accounting technician in Oct.1959. In 1963 I got into computer programming at FMSO, Norfolk working on the UADPS-II system for supply support for stock points. I got to travel world wide during the next 6 years on the implementation teams. The last 15 years of my federal career was spent at NARDAC, Norfolk mostly in telecommunications. I retired in Jan.1993 with 37 years service. My wife Janice and I have 3 children and 5 grandchildren. My oldest is a daughter, Deanna 38, my second is a son Dean 36 and my youngest son Brad is 32. Deanna resides in Norfolk and has 2 daughters Dana and Dawn. Deanna is a graduate of Old Dominion University and works for an electrical contractor. Dean resides in Balitmore, Md. with his wife Sandy and their 3 children , daughter Katey and sons Casey and Brady. Dean is a graduate of Virginia Tech and is an electrical engineer for Northrup-Grumman Aviation. Our youngest son Brad also resides in Norfolk. He graduated from Old Dominion University and is a Detective for the Norfolk City Police Dept.. I like tending my yard and I like writing poems and songs. Really! Its is a great hobby. I have my own small, in home recording studio consisting of a 4-track recorder and the other required equipment. I have a guitar, harmonicas and a keyboard. I have written over a hundred songs and have had the good fortune to have signed publishing contracts for 13 songs with publishers in Nashville,Tn. That is exciting, but the real joy is in the creation of the song.




Back to top of page. .



Kimm, Francis


I served aboard the Waller from Sept.1958 until Jan. 1960 when I swapped ships so I could take a Med. Cruise. I was radarman striker. When I got out of the Navy. I went to work for the GM parts plant as an electrician and maint. supervisor. I spent 35 years there and retired in 1997. I have been married twice. I have 4 children and 3 step children. I have been married almost 20 years this time, I made 18 and a half years the first time. This is a record for me. My present wife and I have no children together. I will be 60 in May of 2000. I am in basically good health. My wife and I have a travel trailer and we spent 2 month is Texas this past winter. I live in Pendleton, Indiana. My email address is fkym40@indy.net . I would appreciate hearing from anyone who might remember me.




Back to top of page. .



Krick, Allan


I came aboard the USS Waller DDE 466, sometime back in 1957 and was discharged from the Navy in May 1959. So my tour aboard the Waller was about 21 months. It was a very interesting time of my life, being on the Waller. Good times and bad times. Most of the guys that were on board were A-1. When I came aboard, I was already married and had 1 child. She is now 42 years old and the oldest of 8 children, with the youngest being my daughter Traci who is still at home at age 12. To keep the record straight, I have 10 grandchildren, 1 more on the way in May and 1 great grand son. I went back to my old job, being a plumber and I am still in the plumbing business and still crawling under houses at the age of 60. I did finally make the rank of Captain. I got my Captains license from the U.S.C.G. Well that about sums it up for the last 42 years except one more important thing;;;; I am now married to the most loving woman I have ever met. Her name is Bird Woman (Robin). We have been married for 3 years now. There are a lot of ups and downs in the last 42 years, that I could write a whole novel, and I am sure we all could "I am just glad that I'm alive".




Back to top of page. .



Mallison, Pete


I joined the Navy in Sept. 1956. I went aboard the USS Waller DDE 466 in Nov. 1956 and served until Sept 1959. When I got out of the Navy, I worked with my father in Excavating until 1962 then went into my own building business and I am still building at this time. My wife Donna and I have 2 children. Sandy is a housewife. She and her husband Kevin have 2 children Amber and Eric. We have a son Jeff who served 6 years in the Air Force and he is in the National Guard at this time. I enjoy restoring old tractors and old cars. I go deer hunting in Upper Michigan with 2 brothers and one friend, every year for the past 30 years.. My wife and I go to Florida for 3 months every winter.





Back to top of page. .



Carl Neste

I served on the Waller from 1958 to 1962, beginning as FTASN and departing as FTU1. I was aboard when we sideswiped the Valley Forge. We mostly did North Atlantic ASW exercises, as well as trips to Bermuda and the Carribean. I was also there when we participated in the Bay of Pigs fiasco. I married my wife Marilyn and had one son while serving in Waller.
After Waller, I did a tour of instructor duty at Dam Neck and Mare Island, where I gained a daughter and made chief. Next was the precom unit of Truxtun (CGN-35) in Camden, NJ. My second daughter was born in Philadelphia Naval Hospital. After commissioning, the ship steamed around South America to our home port in Long Beach. The first stop was Rio, where I discovered I had made both E-8 and W-1.
After 'knife and fork school' in Newport, I spent 3 years on the Columbus (CG-12), making three med deployments. More promotions followed - I was a JG when I was sent again to instructor training at Dam Neck.
Next came the USS South Carolina (CGN-37) precom unit. I was frocked to LT and served as fire control officer. She was homeported in Norfolk. After a normal tour, including a Northern Europe cruise, it was back to Dam Neck as OinC Gunnery Officer Training. I retired in 1978.
Since then, I was employed as an engineer with Sperry Corporation, which became Unisys, Paramax, back to Unisys, Loral and finally Lockheed Martin. I started in Clearwater Florida, then Little Creek (Saudi crew training), Pinellas Park, Florida, and finally Huntsville, Alabama. I retired from Lockheed Martin in October 2002.
Marilyn and I remain in the Huntsville area, where we enjoy gardening, crafts, woodworking, fishing, model railroading, playing saxophone in a couple of bands and traveling to see family in Califormia, Florida and Chicago.

Carl Neste cmneste@earthlink.net



Back to top of page. .



Riordan, Denny


I reported aboard the Waller in Dec. 1956 and served until Sept 1959. After leaving the US Navy and getting home I got a job with Con Edison. The electric company operated in the five boroughs of New York and Westchester County. I spent 35 years with this firm. I was in 2 Departments, I was a surveyor from 1961 to 1978 and spent the last years of my career in Central Stores. They were good times but in 1986 in March, I lost my wife Eleanor to a heart attack. I am now single and living in Port Richie, Florida with hopes of someday living in Las Vegas, Nevada where the action is !!! I still love good old DoWop from the 50ıs. Our skipper T.L.Horner was one in a million, a great man to have served under. It would be great to see him again, when you think of the Waller he was the Waller to us and he made life so good for all of us. (you'll all remember me by my squeaky voice.)


Back to top of page. .

Ross, John T.


My name is John T. Ross. I served on board from 1961-1965. My time spent there as a Machinist Mate in the Aft Engine Room was some of the best years of my life.Three Med cruises, Bay of Pigs, Quebec, Canada, Guantanmo Bay and of coarse in drydock at Norfolk all made a most interesting tour of duty. After April 65 I returned to Connecticut where I worked for P&W and Colts firearms finally going to California where I became involved in the Aircraft Industry. I worked for many of the major co.'s and stayed in aircraft until my retirement in 2003 from Boeing. Currently living in Seattle, wa. and will enjoy 17 years of soberiety in November. Missing all my shipmates from that erra, especially Bob Giles and Gary McCulley and Dean Adkins (oil King). Thanks for the memories!

Rowley, John


I reported aboard the USS Waller in May of 1960 as a ICFN & departed her in July of 1961 as an IC3 & was re-assigned to 3 more destroyers until my discharge, at which time I was an IC2. I was in charge of the movie locker while aboard & was bombarded daily about which "flick" was to be shown each evening, so I set up a schedule & posted it everywhere. It all came to a head when "Thunder Road" was hi-lined to us from other ships 5 times during a 2 week cruise. The last time, Capt. Rothermel actually made me hi-line it back to the Enterprise before we unhooked to get another one! My real claim to fame onboard came when we visited Savannah, GA, for their annual St. Patrick's Day parade. A detail of us had to march in it & before it started, the Ensign in charge let us "cool off" in one of the local bars & we were in great shape for the parade. That was the day of the infamous "St. Patrick's Day Riot" there. Anyhow, I was arrested for drunk driving later that evening & was a "ward of the county" until the next day. Ensign Park came down & bailed me out of the brig.(He was not a happy camper!) After my enlistment, I was hired by Harrison Division, G.M. in Lockport, NY, where I retired in 1997 as group leader in the engineering model shop there. I have been extremely active in the Boy Scouts, Masons & other organizations, but now I am just enjoying life. My address is: JonnyBGud@juno.com for anyone who is interrested in contacting me. My webpage is: http://www.angelfire.com/ny/johnnystracks




Back to top of page. .


Saunders, Tom


I reported aboard Waller in May or June of 1967, having transferred from USS Mullinnix (DD-944) after a brief stint following graduation from sonar Class A school in Key West. I joined the Sonar gang and made Third Class later that year, after we arrived on station in the Med. I remember being very busy. In addition to regular duties, we were field testing the then-new Mk 46 torpedo and an expendable BT system (That was actually a great labor-saving device except it seemed we had to make a drop every hour). We had a great time on the Med cruise, although the local political situation kept closing down potential liberty ports. The Israelis and Arabs were going at it so a visit to Beirut was scrubbed, then the Greeks and Turks got fighting over Cyprus so we cancelled a trip to Piraeus as well. We did make liberty call in Malta (twice), Istanbul, Naples (at least twice), Venice, Palma de Mallorca and Valencia that I can recall. That's still not a bad itinerary for a kid from the Bronx.

When we returned to the US in January of '68 we did a stint in drydock at the yard in Portsmouth, VA. Seemed like there was even less to do in town there than there was in Norfolk. Thank God for Greyhound's weekend bus trips to New York.

I was a 2x6 reservist so my active duty commitment ended in August '68 and I returned to NY and a selected reserve slot on USS Moale (DD-693) in the old Brooklyn Navy Yard. During that time I went to work as a Switchman for New York Telephone Co and got married to a local girl, a schoolteacher, in 1971. We have one daughter who's a trauma nurse in a local hospital's ER, and we just celebrated our 35th anniversary. I retired on a buyout from AT&T in November 2004 where my last assignment was as technical advisor to the sales organization that served the Media & Entertainment industry. It was a rat race, but always an interesting rat race; I got to work with both IT people and broadcast engineers. I was based in NY but my customers were spread out from LA to London. Now, instead of chasing after airplanes, I chase after my three grandchildren who live close by here in Westchester County, NY. Life is good.

Seifert, Bob


I was discharged from the Waller on Feb. 5, 1960. I went to work in May 1960 for a printing company "Milton Art Press." I started as a typesetter and 39 years later I am a pressman for the same company. I married the girl next door. We have been married for 39 years . My wife's name is Ruth (Sissie). We have no children but Sissie has adopted all the animals in the neighborhood. Dogs, cats, squirrels, rabbits and birds. My hobby is watching professional sports on TV. I am an avid Baltimore Ravens fan. I am also a big Baltimore Orioles fan for better or for worse. I have about 2 years to go before I can retire. Then I will have more time to watch my favorite games and aggravate Sissie.




Back to top of page. .



Shrivers, Bob


I was assigned to the USS Waller from Sept. 3, 1958 to August 27. 1960. I reported on board as a seaman on the deck force and was later transferred to OI Division as a radarman. I was discharged as a Radarman 3rd class. Due to economic conditions at the time of my discharge, I accepted any paying job available. I found myself temporarily selling insurance, autos and business equipment. After that I got a job with US Steel as a switchman on the railroad. In March 1965, I went to work for the US Postal Service as a distribution clerk. During my career with the post office, I worked as LSM operator, window clerk, acting supervisor, officer in charge filling in for postmasters, customer service representative, and finishing my career as an account representative. As account representative, I worked closely with large volume mailers, selling them our products and services. I retired October, 1992. Since retirement I have been a real estate sales associate and a mortgage broker. My hobbies are gardening, trying to raise the biggest and best tomatoes in this area, and excelling in being a couch potato, watching as many college football games as possible. I have 3 sons from my first marriage; Michael age 37, single, he is a mortgage broker, Richard age 35, married to Julie, no children yet, he is a sales manager for heating and air conditioning company. Lance, age 29, married to Starla, have one son, Austin age 1, Lance is an AS 400 system administrator. All of my boys live and work in Birmingham. May 1991, I married Marye, the singles director where I went to church, we are now both singles director. Marye has 2 sons, Michael age 31, married to Valerie, he is a music performer in L.A. , has 1 son,Jake age 12. Patrick, age 28, married to Tanya, he is a music studio engineer in L.A.. We were blessed to make a couple of missionary trips to Romania just after their revolution. We are still active in church at Parkway Christian Fellowship, in Birmingham, Al. Marye is a Christian Counselor, we both teach Sunday School some, and have determined to enjoy life. I was able to combine all my years of study to finally get my Bachelor of Theology degree six years ago, Marye went on to get her Masters of Theology degree.




Back to top of page. .



Smith, D.W.


I reported aboard the Waller in March of 1959 and served until Jan. 1961. I returned to Wisconsin and went to work for a seafood distributor. I moved to Vero Beach, Florida in July 1974 and went to work for the city of Vero Beach in traffic maintenance for 6 years. Then I went to work for a chemical co. for 5 years. In 1986 I went back to work for the city of Vero Beach as a leadman in traffic maintenance and now I am the Superintendent of street/traffic maintenance. My wife Gloria and I plan to retire in 2003. Gloria works for the school system as a Baker. We have 2 children and 2 grandchildren. My daughter Janet works for the school system as a secretary and has 2 children. My son J.Victor works for the county. He is single and lives at home with us. ( J.Victor is for sale or rent cheap!)




Back to top of page. .



Toscano, Joe



I reported aboard around Feb. 1960 and served until Oct. 1961. I started out in the 1st Div. and then went into the Supply Div..My final rank was SK3. Before my tour I was in civil service working for the Air Force at Kelly AFB, San Antonio so I was rehired in Nov.61. I was a electric accounting machine operator (operated IBM machines; sorters, reproducers, printers, etc.,) My entire civil service career which spanned 36 years was working with computers. I was a computer operator, computer specialist, and finally an information systems project manager. I retired in Feb.1995. My wife Molly and I have 2 children and two grandsons. Our daughter Laura Ann works at Kelly AFB as a production clerk. Our son Joe Michael has 2 sons. He is currently serving in the U.S. Army and is stationed in Kaiserslautern, Germany. My hobbies are hunting and fishing. I did take up golf but I was spending to much time at the "19th hole" and had to give it up.




Back to top of page. .



Warren, Bob


Bob Warren I served aboard Waller from 1962-64. I was an RM2. I was aboard in 1963 for a cruise to the mediterranean and the mid-east during the summer and I remember being on radar picket duty in the Red Sea. The average daytime temperature was about 120 degrees. It was miserable. When I left the Navy I went back to the Detroit area and worked in the auto industry, then to California where I worked in the aircraft industry. In 1969 I joined the Los Angeles Police Department and stayed with it for 29 years, retiring as a lieutenant in narcotics. After retiring, my wife and I built a home in AZ. We love it here. I have a book that was put together commercially that documents the med and mid-east cruise. After viewing your ship's roster I was able to put some names together with those in the cruise book. I recently joined the USS Holder Assn. after finding their web site. I served on Holder before being transferred to Waller. e-mail: retinaz@cableone.net




Back to top of page. .



Whigham, Gene


Travis Eugene Whigham, known as Gene to his friends, was on the Waller from about 1956 to 1958 with me. He was married and he had 4 children. He lived in Florida. We got together quite a few time over the years. I am sorry to say that Gene past away in the Spring of 1998. I will always miss him. This was written by his friend Pete Mallison




Back to top of page. .



Wolf, Joe


I served aboard the Waller from May 1958 until Nov. 1959 as a Chief Radioman. I enlisted in the Navy in N.Y.C. in Feb. 1943 and transferred to Fleet Reserve in Aug. 1962. I was recalled to active duty in Dec. 1964 and served until June 1969. After completing a course at RCA Institutes, Inc. I obtained an FCC 1st Class Radio Telephone License and worked overseas for Aeronautical Radio Inc. as a radio mechanic. Prior to moving to Coco Beach where I've lived for 22 years, I lived in McLean and Falls Church, Va. for 7 years. My former wife Marie, daughter Linda and twin grandchildren Lauren and Lindsey (age 13 ) live nearby in Merritt Island. I'm content to just read and watch TV, and do little else. Actually though, I've been trying to learn to play the Irish whistle for over a year now and I'm getting there.

Back to top of page.





Click on me to go back to Wallers home page.